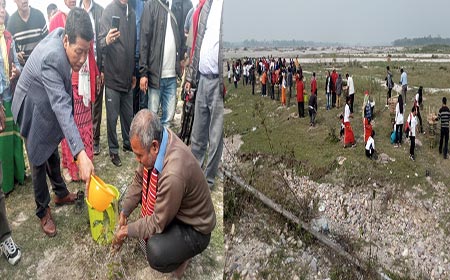 BORGULI, Feb 15: Jadav Payeng, the environmentalist and forestry worker from Assam's Jorhat district, who is popularly known as the Forest Man of India, has appealed to the people to save the environment by planting more and more trees.
"Let's save our environment from vanishing into oblivion following widespread deforestation," Payeng said during an awareness programme here after participating in a tree plantation drive on the bank of the Siang river at flood-prone Borguli village in Mebo subdivision of East Siang district on Saturday.
The plantation programme was organised by the Siang Eco-system Environment Protection and Nature Group (SEEANG).
Payeng, who has been planting a tree every day since 1979 on a sandbar island in the Brahmaputra, said he is against spending a large amount of money in a single day in the name of World Environment Day celebration.
"One should inculcate the habit of planting one tree every day, instead of spending a large amount of money on a single day in the name of World Environment Day," he opined.
Payeng narrated how he single-handedly developed a barren sandbar into a lush green forest area of about 550 hectares in Kokilamukh, near Jorhat, after a catastrophic drought and a life-threatening flood. He informed that the forest now houses Bengal tigers, rhinoceroses, elephants, wild boars, reptiles, vultures, rabbits, deer and migratory birds.
A short film on the achievements of Payeng was also screened by IPR Director Obang Tayeng.
Payeng was conferred with the country's fourth highest civilian award, the Padmashree, in 2015.
'Forest Man of Arunachal Pradesh', Indi Glow, also took part in the tree plantation.
He narrated how he has implemented his model of conservation in the Eaglenest Wildlife Sanctuary, involving the local communities, as well as how the local hunters have been transformed into conservationists.
Earlier, SEEANG secretary-general, retired group captain Mohonto Panging Pao, made a PowerPoint presentation on conservation.
Over 100 saplings of Holok and Quercus were planted by the dignitaries.
SEEANG president Yemling Tayeng, Mebo ADC Hage Lailang, and members of the ABK and the WASE also spoke.
Lonyuk Lego and his team from Borguli village, students of the Kiyit KGBV, volunteers of the NSS unit of JN College, Pasighat, and students of KP Vivekananda Memorial School, Pasighat, performed skits on environment protection and conservation.
The NSS volunteers, led by Programme Officer Ing Perme, planted saplings and donated saplings to the gaon burah of Borguli village.