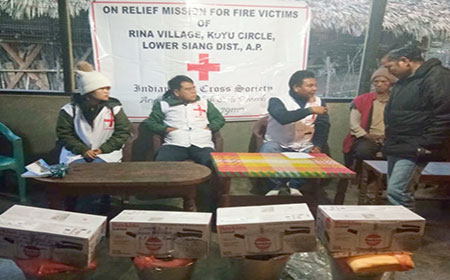 KOYU, Feb 21: A team of the state unit of the disaster mitigation committee of the Indian Red Cross Society (IRCS) on Friday provided relief items to the families affected by the fire accident that had occurred in Rina village here in Lower Siang district on 16 February.
The team, headed by Dr Marli Ete and Koj Tara, distributed utensils, mosquito nets, bed sheets, plastic mats, flashlights, etc, among the five affected families.
The IRCS members expressed regret that they could not provide relief to the two families whose houses were partially damaged in the fire as there was no prior information about them, Dr Ete said.
He said the IRCS secretary would be apprised of the matter, in order to extend relief to the two families, as well.