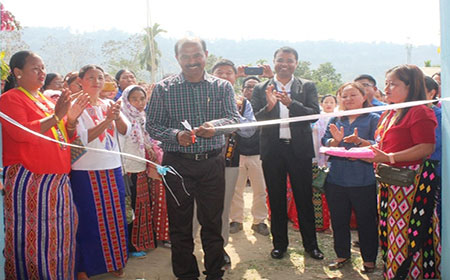 KANUBARI, Feb 25: NABARD Arunachal General Manager, Dr Gopa Kumaran Nair, inaugurated a rural haat here in Longding district on Tuesday.
A joint venture of the NABARD and the NERCORMP, the haat is aimed at providing a marketing platform to farmers and SHGs from villages such as Luaksim, Mopakhat, Ollingtong, Dasatong and Kamkah to sell their agri-horti, handloom, handicrafts and livestock products and produces.
Until now, they had to sell their goods and produces along the roadside, without any permanent shed or structure. The rural haat will mitigate the marketing hardships faced by the local farmers, vegetable growers and women SHGs.
Among others, NABARD District Development Manager Kamal Roy, NERCORMP District Project Director Ruzing Bellai, Kanubari CO Yowa Anya, PRIs, and members of SHGs from Kanubari and Longding were present at the inauguration.
Later, a common facility centre, constructed by the NERCORMP with NEC funding, was also inaugurated.
"The centre will provide a space for women in decision-making for village development, centre for training, skill development and any other common activities for development of Luaksim village," the NABARD informed in a release.
It said members of more than 65 SHGs, besides farmers and others, participated in an interaction programme that followed.