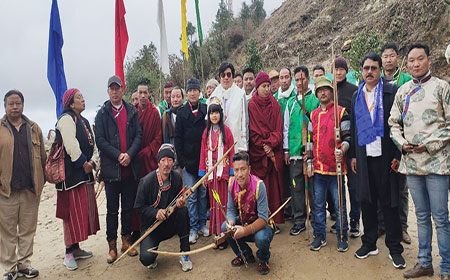 PEDUNG, Feb 27: Pedung Archery Club (PAC) scored 98 points against Tawang Resident Society Bomdila (TRSB) to win the opening match of the archery tournament, being organized by the Pedung Sports Club as part of Lossar festival celebration, at the archery ground here in West Kameng district on Thursday. TRSB scored 63 points.
Altogether seven teams from the PAC, the Sera Archery Club, the TRSB, Pedung Youth team, Lingesar, Tseyang Tsogpa shooters, and the Takshang Archery Club are participating in the tournament.
At the end of the tournament, the winning team will receive prize money of Rs 80,000, while the runner-up team will get Rs 40,000.
The tournament will conclude on 7 March.
Earlier, addressing the opening ceremony, businessman Rinchin Dondup Khochilu commended the organizing committee and the villagers for preserving their traditional sport.
"We have to produce as many talented archers as possible through this tournament," he said, and assured to arrange a coach to train young archers.
Organizing committee chairman Lobsang Genchen urged the teams to maintain the sportsmen spirit and preserve their traditional sports.