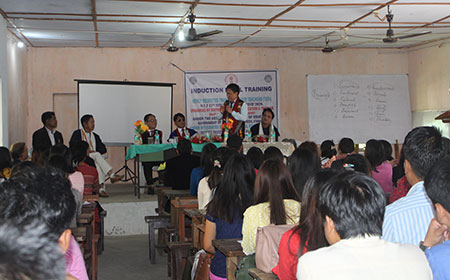 PASIGHAT, Feb 28: Director of Elementary Education (DEE), Tapi Gao, along with ISSE Deputy State Project Director (DSPD) Nangram Pingkap and East Siang DDSE Jongge Yirang on Friday visited the newly-recruited trained graduate teachers (TGT) who are undergoing induction level training at the DIET here.
Among the 11 DIETs in the state, the one here has the largest number of candidates (98), from East Siang, Upper Siang, Lower Siang and Siang districts.
Addressing the trainees, Gao spoke on the value of the teaching-learning process and encouraged the TGTs to not be worried about their places of posting, sharing his own experiences of the challenging task of being a teacher.
Yirang advised the trainees to be "ready for duty and make efforts to shape the nation as a whole through education in the coming days."
The ISSE DSPD also spoke.