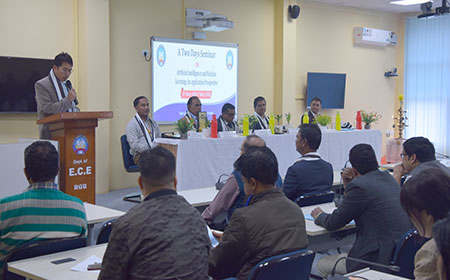 RONO HILLS, Mar 5: A two-day seminar on 'artificial intelligence (AI) and machine learning' got underway at the computer science & engineering department of Rajiv Gandhi University (RGU) here on 5 March.
Addressing the inaugural session, NERIST Director, Professor HS Yadav, emphasized on the use of AI in agriculture, and advised the young participants to "choose agriculture as a career option."
RGU Pro-Vice-Chancellor, Prof A Mitra, spoke on "the importance of AI and how AI can be used to make India one of the best technological countries in the world."
Dr Sanansam Ranbir Singh from the Guwahati IIT's CSE department presented a brief on AI and machine learning.
Engineering & Technology Dean, Prof Pradip Kumar Kalita, dwelt on technology related to AI, and CSE Head (in-charge), Dr Marpe Sora, enumerated different aspects of AI.