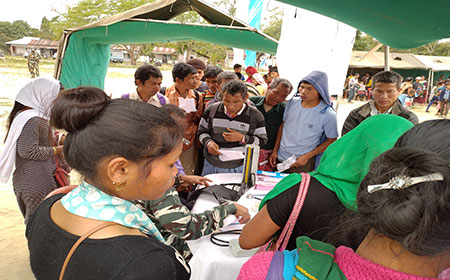 [ Pisi Zauing ]
YUMCHUM, Mar 5: More than 300 villagers, mostly women and children, from Yumchum and adjoining Khachang, Maithingpum, Dharmapur and Batcamp villages benefitted from a free medical camp organized here in Changlang district by the 171 Bn CRPF under its civic action programme on Thursday.
Specialist doctors from Dibrugarh treated the patients suffering from various ailments.
Apart from health check-up, medicines were also provided to the needy patients free of cost. Most of the cases were related to waterborne diseases, gynaecological problems and diabetes.
Commandant Pradumn Kumar Singh, who came from Assam's Dibrugarh district, thanked the villagers for their untiring support in maintaining peace and tranquillity.
"Peace is the ultimate ingredient to development. A society can never progress under the shadow of unrest, hatred, suspicion and other antisocial activities," said the commandant.
"Under civic action programme, we organize free medical camps and other activities every year to come closer to civilians and extend our help and support," Singh said.