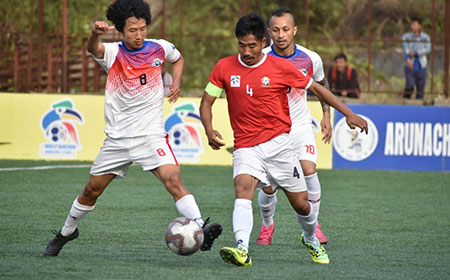 CHIMPU, Mar 5: Reigning champion Gora Makik SC scored a convincing and morale-boosting 5-0 victory over Kargu Kardi FC in the last league match of the Indrajit Namchoom Arunachal League (INAL) here on Thursday.
The win propelled GMSC (11 pt) to second spot behind Capital Complex (12 pt), and pushed Todo United (10 pt) to third spot from overnight second spot.
GMSC was the only team that had remained undefeated during the league round. They won three matches and drew two. Capital Complex have won four matches and lost one.
Todo United won three matches, drew one and lost one. Fourth place finisher Bamang Taji (7 pt) won two matches, drew one and lost two.
Debutants Kargu Kardi finished fifth (3 pt) with 1-4 win-loss record.
Bottom-of-the-table Keyi Panyor could not to register any win.
GMSC will face table topper Capital Complex FC in the first semifinal (Qualifier 1) to be played on 7 March. The winner of Qualifier 1 will progress to the final.
Todo Utd FC will meet Bamang Taji FC in the second semifinal (eliminator) to be played on 8 March.
The loser of Qualifier 1 will be paired with the winner of the eliminator.
The winner of the eliminator will meet the winner of Qualifier 1 in the final.