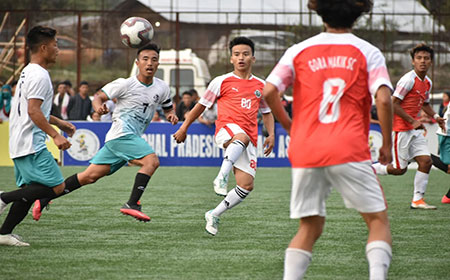 CHIMPU, Mar 7: Capital Complex FC won the first qualifier and entered straight into the final of the Indrajit Namchoom Arunachal League (INAL) after a nail-biting end here on Saturday.
They won the match beating defending champions Gora Makik SC 5-4 in penalty shootout.
As expected, the match started on a fast pace, but the score remained 0-0 at halftime. Both teams started pressing hard for an early lead from the very beginning, but neither side was able to create a scoring chance.
CCFC were awarded a penalty in the 60th minute, when GMSC defender Akash Kino handled the ball inside the penalty area. Nepalese recruit Amir Shresta did not miss to turn the opportunity into a goal.
The defending champions were high in confidence and once again left everyone stunned by scoring in the last minute of the injury time (90+4 min). The equalizer was scored by Gyamar Tala.
The match went to penalty shootout after the score had remained 1-1 at the end of the extra time. CCFC's young goalkeeper, Jagom Loyi, made some magnificent saves during the penalty shootout.
GMSC are still left with a chance to reach the final as they will be paired with the winner of the second semifinal in Qualifier 2.
The second semifinal (eliminator) will be played between Todo United FC and Bamang Taji FC on Sunday at 2 pm.