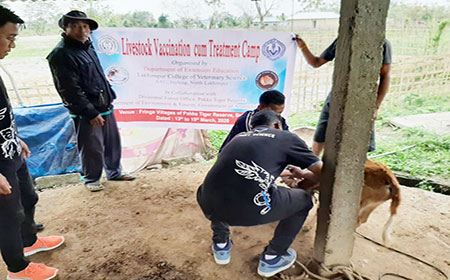 SEIJOSA, Mar 18: Hundreds of livestock along with goats, pigs and dogs were vaccinated during a three-day livestock vaccination-cum-treatment camp from 13 to 15 March in the fringe villages of the Pakke Tiger Reserve in Pakke Kessang district.
Villages which were covered under the programme include Jolly Basti, Lower Bali Basti, Upper Bali Basti, Monai, A-1, A-2, Upper Seijosa, Darlong and Lower Seijosa.
Diseased animals were also treated during the camp which was organized under the supervision of Pakke Tiger Reserve Director Tana Tapi.
The camp was organized jointly by the Lakhimpur College of Veterinary Science, Assam Agricultural University, Joyhing, North Lakhimpur, in collaboration with divisional forest office, Pakke Tiger Reserve, department of environment & forests, GoAP.