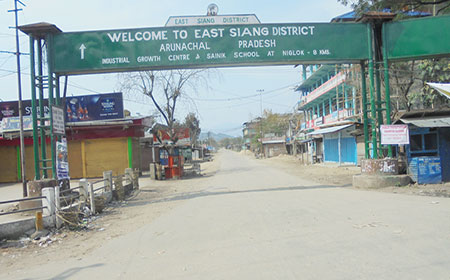 BOMDILA, Mar 22: The people of West Kameng district put themselves under self-quarantine on Sunday to observe the 'janta curfew'.
The roads in district headquarters Bomdila, subdivisions, blocks, circles and villages wore a deserted look. Not a single person ventured out of home, and no vehicle was seen plying since morning.
Anticipating celebration by the people at the end of the 'curfew', which he said might beat its purpose, DC Karma Leki has issued a prohibitory order under Section 144 CrPC from 9 pm of Sunday till 5 pm of 23 March.
The people of Pasighat and Ruksin in East Siang district also observed the 'janta curfew' by confining themselves to their homes.
All the shops and business establishments, barring pharmacies and ATMs, were closed during the 'curfew' period.
However, DC Kinny Singh extended the 'curfew' till midnight, stating that "such restrictions would add more benefits."
To make the self-imposed curfew more effective, Singh has also promulgated Section 144 of the CrPC, prohibiting public gathering of more than four persons at a place.
The 'janta curfew' was also observed in Papum Pare district with full public support.
Mock drills held
In Lower Subansiri district, a mock drill on 'identifying, isolating and combating Covid-19 infected persons' was carried out at the general hospital in Ziro on Sunday, under the supervision of DMO, Dr Tage Kano.
Deputy Commissioner Chukhu Takar along with the nodal officers and the DDMO monitored the exercise. The team also inspected all the quarantine facilities and the isolation ward set up at the district TB hospital.
The DMO informed that thermal screening is being carried out at the Yazali check gate and the travel histories of the people coming from outside the state are being "meticulously maintained for further follow-ups."
A mock drill on 'emergency response for handling Covid-19 cases in government hospitals' was also conducted at the Doimukh CHC, in Papum Pare district, on Sunday.
"During the mock exercise, the health workers were trained on how to take nasopharyngeal and throat swab, as well as how to quarantine and isolate the patients," DMO, Dr Subu Tasso Kampu, said.
Among others, the SP, the DDMO, the DRCHO, the DSO and the CHC's MO attended the exercise.
In Lower Dibang Valley district, a medical team headed by DMO, Dr R Tatan, conducted a mock drill to handle Covid-19 patients at the isolation ward that has been set up at the district hospital there.
Similar mock drills were also held in all other districts of the state, IDSP State Surveillance Officer, Dr L Jampa, informed. (DIPROs, with input from correspondent)