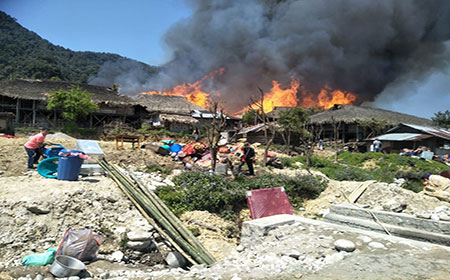 Staff Reporter
KAYING, Mar 25: More than 54 houses, including a community hall [dere], were completely burnt in a devastating fire that broke out at Kaying village in Siang district around 10.45 am on Wednesday, Siang DC Rajeev Takuk said.
Some people are reported injured.
The cause of the fire is yet to be ascertained.
The fire was brought under control after an-hour long joint efforts by the 1st Arunachal Scout team of Kaying, Kumaon Regiments of Indian Army at Kaying, Indian Army, fire-fighters from Aalo and the village youths.
The properties lost or damaged in the fire are being assessed by a team of officials. Takuk said he has asked the team to submit the report within 48 hours.
The district administration has provided Rs1.5 lakhs to the affected families as immediate relief.
There are more than 100 households in Kaying village, he informed.
Meanwhile, MLA Ninong Ering has provided Rs 1 lakh to the affected families as immediate relief and another Rs 10 lakh for procurement of CGI sheets, informed Kebo Gambo Welfare Society president Dr Taking Gammi.
Rumgong MLA, Nino Welfare Society and several organizations and individuals also provided immediate relief to the fire victims.
Meanwhile, Dr Taking said the incident dealt a severe blow to the poor people of the village amid Covid-19 scare.