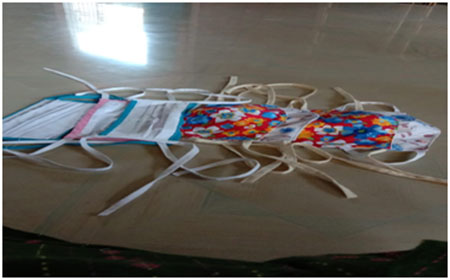 Staff Reporter
ITANAGAR, Mar 26: In view of the shortage of personal protection equipment (PPE) in the market, the Nightingale SHGs Federation in Bordumsa, in Changlang district, has taken the initiative to stitch layered cloth masks for use by doctors, medical staffers and other residents there.
The federation, comprising 10 SHGs, has been formed by the Bordumsa Mahila Mandal, under the NERCORMP.
Bordumsa ADC Devansh Yadav informed The Arunachal Times that the masks produced by the SHGs will soon be available in the market and people can buy them at a reasonable price.
"There has been concern among people here over the shortage of masks in the market. Therefore, when the SHGs came up with the initiative, the administration decided to encourage them by placing an order of a thousand masks. On Wednesday, the SHGs showed samples of 50 double-layered masks. Though these are non-surgical masks, they can be used by people to protect themselves against Covid-19 infection," the ADC said.
Reportedly, the Miao ADC has also placed an order for 500 masks with another SHG, Seva Kendra Arunachal East, based in Namphai.
Changlang DC RK Sharma has commended the SHGs involved in making the masks.
The SHG federation is also in the initial phase of producing low-cost sanitary pads for the girls and women living in rural and remote areas of the district. It is a joint initiative of Rajasthan-based Jatan Sanstha and the NERCORMP in Changlang to provide menstrual hygiene to women and girls who cannot afford expensive sanitary napkins.
Meanwhile, the Bordumsa ADC said that the administration is also considering imparting training to these SHGs in preparing hand sanitizer using alcohol and glycerine, so that they can produce and sell it on a large scale.
"We are also considering training them in protective glove-making, which they can sell locally alongside the cloth masks," he said.
Regarding the status of the preparations against Covid-19, the ADC informed that PPE have been received and "around 10 thermal scanners were given for entire Changlang, which are presently used at all check gates."
He further informed that swab sample taken from one suspected Covid-19 patient was sent to Dibrugarh, Assam, on Thursday for testing. The person is currently in isolation at the Bordumsa CHC.