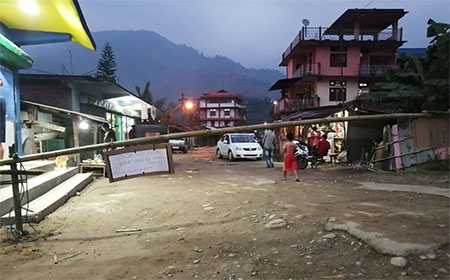 ITANAGAR, Mar 28: The Senkiview Welfare Society (SWS) on Saturday blocked the entry point to the Senki river here after youths from different colonies were seen gathering on the riverside despite the lockdown order in place.
SWS general secretary Kalley Cheda said the blockade was necessitated because "since day one of the statewide lockdown to contain Covid-19, many groups of youths and teenagers were seen on the riverside, drinking and taking bath."
"Despite repeated requests, youths continued to come to the colony. Therefore we have constructed the gate, so that they don't enter the colony," he said.
Cheda said the colony's location on the outskirt encourages youths from other colonies to enter the area "to hang around the river for various reasons."
Meanwhile, Senkiview Youth Association general secretary Sono Tabri requested the people of Itanagar to stay in home quarantine in the greater interest of the state.
The administration has already banned fishing, hunting, celebrations, and visits to the river, he said.
Tabri said anyone found violating the order by the SWS would be handed over to the police.
"We don't have any personal grudge or enmity against anyone, but in this situation, when the entire country is fighting against the coronavirus, we don't want anyone in the colony to be infected," he said.