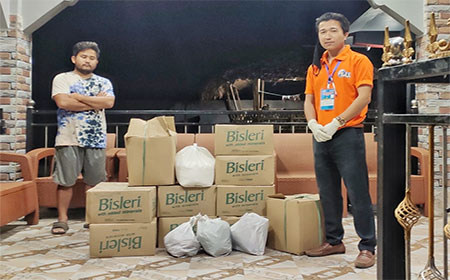 Staff Reporter
ITANAGAR, Mar 28: Private delivery services 'UTellUs' and 'Dukandada' are ensuring that customers in the capital region get their goods delivered at their doorsteps.
The service providers informed that they have been making over 200 deliveries a day each, although they have on occasions been unable to deliver on the same day to all of their customers.
However, both gave assurance that all orders are delivered.
"The waiting period depends. Sometimes it takes around 20 minutes, sometimes it takes two to three hours, in both Itanagar and Naharlagun. This is because we do not get all the listed items in the orders at a single place," said Dhanan Morang, the CEO of UTellUs.
"The delivery charges also depend on the weight and distance. For example, yesterday one delivery weighed 35 kgs, and we had to deliver from Itanagar to the Yupia ITBP camp," Morang said.
UTellUS takes orders through WhatsApp and calls only (+91 7640072516 and +91 6009897768) for essential goods, vegetables, grocery, non-veg items, and ambulance services, and delivers to locations between Gohpur Tinali and the NERIST gate only.
It takes orders from 11 am to 5 pm.
Doni Riba of the Dukandada grocery delivery app informed that their delivery fees are minimal. Delivery charges start at Rs 20, and depend on the weight and distance.
Since movement was restricted in the initial days of the lockdown, Riba said they had a backlog of two days.
"We have now cleared all the backlog orders, and have started making same-day deliveries," he said, adding that Dukandada delivers from Chimpu in Itanagar to Model Town in Naharlagun.
"But if we are able to get more delivery boys, we can extend up to Nirjuli and Doimukh also," Riba said.
One can download the Dukandada app from Google Playstore and place orders anytime. However, the system is switched off when there are too many orders (usually at night), so that the customers do not face a very long delay in receiving their items.
Deliveries are made till around 7 to 8 pm.
Dukandada accepts pre-payment as well as cash on delivery, besides payment via UPI facilities like BHIM, Phonepe, Google Pay, etc. The customer care numbers of Dukandada for queries and technical support are +91 8448440733 and +91 6909665305.
Additionally, Dukandada, in collaboration with Hotel Su Pinsa, is supplying lunch to the police personnel on lockdown duty for at least 10 days.
Reportedly, the delivery services are also facing certain challenges, such as paucity of delivery personnel, with many families reluctant to send their wards out in fear of the coronavirus.
The delivery personnel have been trained to practice caution by way of regular hand-washing and using masks and sanitizers.
Meanwhile, they are reportedly facing shortage of fuel as the fuel depots in Itanagar are closed.
It is to be noted that the government is only assisting them by providing passes for the delivery boys and keeping the supply chain (stockists) open for the delivery service providers.