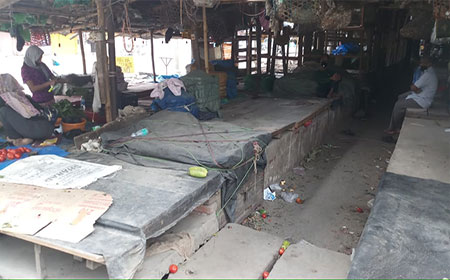 Staff Reporter
NAHARLAGUN, Mar 28: The vegetable markets here wore a desolate look on Saturday as fresh supplies have not arrived due to the ongoing 21-day nationwide lockdown.
Most of the vegetable retailers said they were unable to procure fresh supplies from their Assam-based suppliers as their services have also been badly affected by the ongoing lockdown.
"It's been two days since we received fresh supplies from Assam. Vehicles carrying essential items and vegetables are free to move, and there are no restrictions whatsoever; but the problem is with the suppliers in Assam, whose services have been affected by the lockdown. It might take a day or two more for them to resume supply," said a vegetable vendor in the daily market here.
While some vendors were selling leftover stocks of potatoes, onions and tomatoes, some simply sat in front of their closed stalls and shops.
Most of the outlets of local vegetables and meat, which otherwise remained filled with a variety of local greens, were also closed in the absence of fresh stocks. Only a couple of women were seen selling a few vegetables at one or two stalls.
Earlier, on Wednesday, the authorities had clearly announced that the supply of essential items would not be affected in any way, and that the state had enough food and fuel stocks to last for the next 4 to 5 months.