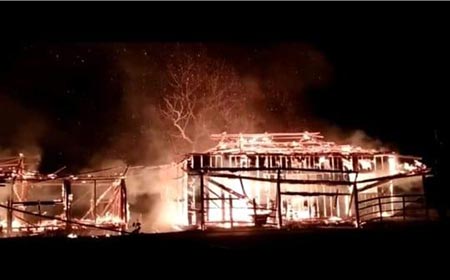 Staff Reporter
TEZU, Apr 5: An old, abandoned wooden house was reduced to ashes in a fire that broke out on Sunday evening at Medo market in Lohit district.
Lohit SP DW Thongon informed that the accident occurred at around 6:30 pm, when some of the weekly market's tenants were resting in the house, which was owned by a local man named Kolongso Lap, and usually remained abandoned.
"According to the onlookers, the accident occurred due to short-circuit. They saw it but did not pay attention," the SP said.
He informed that no casualty occurred and no valuables were lost in the fire.
"We got information by 6:45 pm, and immediately sent a fire tender. We were able to douse the fire before it could spread further," the SP said.