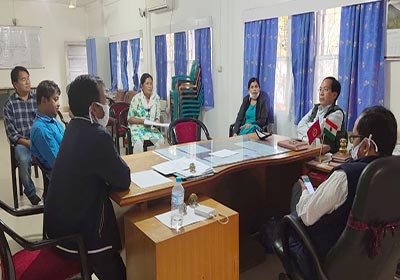 [ Pisi Zauing ]
MIAO, Apr 8: Establish-ments in Namphai I, Miao town, Dharmapur, Ratnapur, Budhisatta, M'pen and Devapuri in
Miao subdivision of Changlang district will be identified for setting up more quarantine centres.
The decision was taken during a review meeting convened by local MLA Kamlung Mossang here on Wednesday with ADC Tage Rumi, EACs Apollo James Lungphi and Namrata Bhatt, and the SDFCSO.
As of now, the ITI in Balinong has been designated as a quarantine facility for those who might be coming home from other states after 14 April.
Availability and distribution of LPG was also discussed during the meeting. The MLA advised the official in charge to personally monitor the distribution system, so that LPG cylinders reach every household on time.
"As of now, there is no shortage of any essential item in Miao subdivision from government and open market," Mossang said.
He said systematic planning would have to be made in anticipation of the problems that could arise due to the arrival of people who are currently stranded in different parts of the country.
"Each and every indi-vidual who arrives after the lockdown will have to go under quarantine for ano-ther 14 days at these desi-gnated facilities," he said.