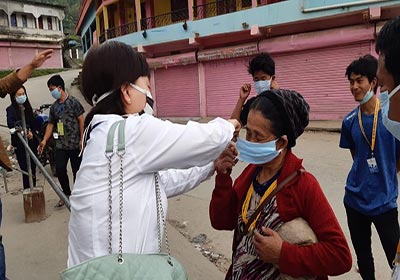 SEPPA, Apr 9: 'Mask East Kameng' campaign was launched here on Wednesday to encourage the district's people to wear facemasks to prevent the spread of Covid-19.
Spearheaded by the East Kameng Social Welfare & Cultural Organization [EKSWCO] and its youth wing, the campaign was launched jointly by the student unions and other organizations voluntarily involved in Covid-19 duties.
The organizations are the EKSWCO Young Eagles [EYEs], the East Kameng Middle Zone Students' Union, the All Bameng Khenewa and Lada Students' Union, and the district unit of the All Nyishi Youth Association.
"The campaign by EKSWCO is to encourage people to wear facemasks and make it mandatory for all the citizens of East Kameng district," a release from the organizer said.
It will also encourage likeminded partners to produce and donate masks to the society.
Demonstrations on the correct way to wear a mask, cleaning the mask, and hand-washing techniques were presented during the launch. Masks were handed over to the 'team captains' for free distribution among the residents of Seppa.
Among others, EKSWCO COMEX members Ajit Tajo Sonam and Dilip Jomoh attended the launch programme, which was organized by EYEs project head Tadi Dodum and project coordinator Joymoni Beyong.