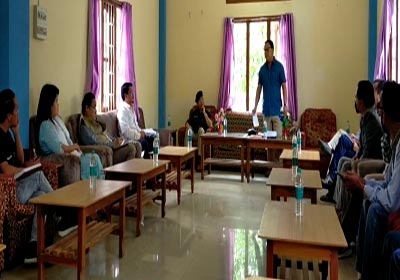 [ Karda Natam ]
DAPORIJO, Apr 9: Upper Subansiri DC Kanto Danggen on Wednesday held a meeting with represen-tatives of NGOs and student and youth organizations of the district to discuss matters related to Covid-19 and management of the situation that may arise once the lockdown is lifted.
"One of the main issues of the discussion was management of the people, including students, who are likely to start arriving here from outside the state after 14 April," the DC said.
He, however, said the administration is ready with quarantine facilities, and that the new arrivals will be kept in quarantine.
All the participants assured the administration of their full support and cooperation in the fight against Covid-19.
The All Upper Subansiri District Students' Union volunteered to assist the administration in creating awareness on Covid-19, the importance of maintaining physical distancing, and following the health advisories.
The meeting was also attended by members of the Tagin Cultural Society, the district units of the Nyishi Elite Society and the Galo Welfare Society, the Tagin Students' Union, and the Tagin Youth Organization.