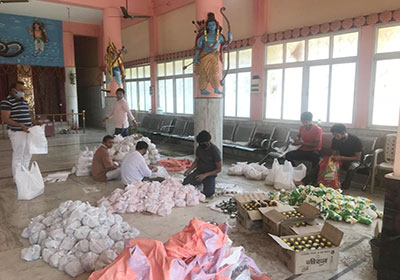 Staff Reporter
ITANAGAR, Apr 18: The non-APST business community of the capital complex has donated to the chief minister's relief fund (CMRF) and PM Cares, besides distributing relief items to the poor and the needy.
Members of the community are distributing ration items to daily wagers and other needy people in various parts of the capital complex.
Speaking to this daily, a businessman said they are doing their part to support the government in the battle against Covid-19.
"In this difficult time we are with the state government and the people of Arunachal. Whatever is possible from our side, we are doing. But we don't want any kind of publicity and therefore keep away from it," he said.
He informed that various temple committees of the capital complex have also donated funds to the CMRF and PM Cares.
"We have identified various families in Itanagar, Naharlagun and Nirjuli who need urgent help. Accordingly, since the lockdown started, we have been trying our best to reach as many families as possible and provide them with basic ration items," the businessman said.
Meanwhile, former ANSU leader and social worker, Gyamar Taz, on Saturday distributed ration items to 106 families of Narba Colony in Itanagar.
Informing about this, Narba Colony Welfare Committee general secretary Sanjay Tajo said several poor families living in the colony have benefitted from it. He also appealed to others to provide assistance to the needy people in this time of crisis.