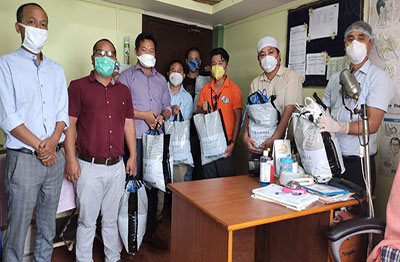 ITANAGAR, Apr 27: A group of alumni of the Ramakrishna Mission School (RKMS) in Narottam Nagar, in Tirap district, donated 2000 masks to the Indian Medical Association's Arunachal chapter at Heema Hospital here on Monday.
The group also donated Rs 55,000 to the capital complex deputy commissioner for procuring rations for the needy and the poor. It also donated Rs 50,000 to the RKMS in Narottam Nagar.
The donations were made within the confines of the restrictions and in keeping with all the legal protocols put in place by the government.
The group urged other alumni of the school, who are out of touch, also to help in whatever way possible.
The alumni may contact the group by messaging to the WhatsApp number +91 97740 03738 or +91 97746 65889.