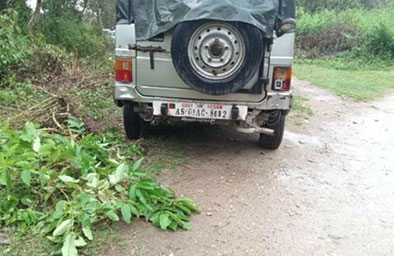 Staff Reporter
ITANAGAR, May 3: Officials of Assam's forest department, accompanied by a heavy contingent of police, on Sunday trespassed on Arunachal's territory at Dullung Ramghat village in Tarasso circle of Papum Pare district and destroyed rubber plantations belonging to the local people.
Tension has been brewing in the area since last month, with the locals alleging several instances of unprovoked trespassing on Arunachal's territory by Assam officials.
According to a report, around 100 people, who brought along a tractor and an excavator, entered way inside Arunachal and damaged the properties.
Speaking to this daily, Tarasso Circle Officer Rome Mele informed that he spoke to the Assam officials and expressed strong resentment over the act.
"On Sunday morning we received report that Assam officials had entered the area, and immediately rushed to the area. We have lodged strong protest against destruction of private properties and have urged Assam to respect the status quo in regards to boundary dispute," the CO said.
Urging them to desist from indulging in such acts, the CO said, he also made it clear to the Assam officials that such interstate boundary issues can be resolved at a higher level, and that Assam's officials "should approach through proper channel if they have any issues."
Giving a detailed account of the incident, Mele said the problem started last month. "Some people cleared jungles in the Dullung Ramghat area. Immediately, I had issued a prohibitory order on 26 April, banning the clearing of jungles/forests.
Also, an FIR was lodged in this regard at the Balijan police station," informed the CO.
Nevertheless, Assam officials entered the area, claiming that the area belonged to them. On 28 April, when officials of Assam again trespassed on the area, the Tarasso administration, led by Mele, intercepted them and held discussion. The CO told the Assam officials that the area belongs to Arunachal and action would be taken by the government of Arunachal against destruction of forest.
Earlier, the locals of the area had alleged that on 25 April, officials of Assam's forest department destroyed the barricade put up by the locals and IRBn personnel to restrict the movement of people, in view of Covid-19. The incident reportedly took place 5 kms inside Arunachal's territory.
Reacting to the incident, local MLA Tana Hali termed it unfortunate.
"At this time, when the entire country and the whole world are fighting against Covid-19, this attempt by Assam to grab land is against humanity. Their action is also against the Supreme Court order to maintain the status quo," he said.