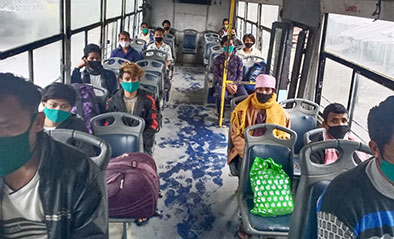 ITANAGAR, May 3: The capital police and administration escorted 348 migrant workers from Itanagar area and 524 from Naharlagun area on APST buses to the Hollongi and Banderdewa check gates, and handed them over to the Assam police and administration on Sunday.
"All migrant workers and their employers are requested to contact or report to the nearest police stations if they are willing to move out from Arunachal to Assam," Capital SP Tumme Amo informed.
"The SDPOs of Itanagar and Naharlagun will coordinate the matter," he added.
While the Itanagar SDPO can be contacted at 94362 71941, the Naharlagun SDPO can be reached at 94362 08679.
Our correspondent adds: About 100 migrant workers from different districts of Assam who were stranded in the Siang belt were dropped at the Ruksin check gate in East Siang district on Sunday.
The Dhemaji district administration (Assam) later sent them to their destinations on Assam State Transport Corporation buses.
Meanwhile, the Jonai sub-divisional administration in Assam has set up a counter near the Ruksin check gate to receive migrant labourers.
Some local NGOs and CBOs are helping the administration by supplying food and other needs to the labourers.