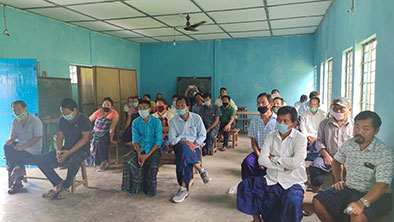 [ Pisi Zauing ]
MIAO, May 3: Six villages on the right bank of the Noa-Dehing river in Changlang district have decided to jointly cooperate with the police in the fight against Covid-19.
The decision was taken during a meeting of the villagers, in the presence of government officials and public leaders, at Lewang village on Sunday.
The villagers resolved to constitute a 'steering committee' to help the police in monitoring movement of people within the jurisdictions of the six villages. The committee will also ensure implementation of the directives and advisories issued by the government from time to time.
Volunteers will contact the police immediately if they witness any illegal activity or movement of people in the area.
The Covid-19 monitoring team advised the GBs and the villagers to continue to maintain physical distancing and keep the team updated about the spread of the coronavirus.
Public leader Gumjanong Singpho donated Rs 7000, while the monitoring team donated facemasks for the villagers to GB Lewang Sinengam Singpho.
Among others, EAC Apollo James Lungphi, DSP Tasi Darang, Miao PS OC, Inspector Ege Ete, and public leaders of Pisi, Phup, Khamuk, Lewang, Khagam Mosang and Khagam Singpho villages attended the meeting.