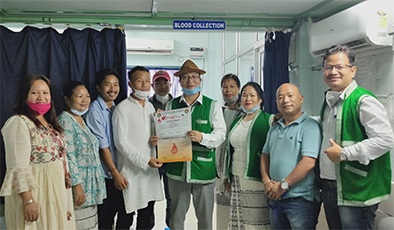 ITANAGAR, May 13: A total of 224 units of blood were collected during the three-day pan-Arunachal voluntary blood donation programme organized across the state by the Galo Welfare Society (GWS) from 11 to 13 May to commemorate the first death anniversary of its former president Dr Minge Loyi.
Ninety units of blood were collected at the camp organized at RKMH, 58 units at TRIHMS, 23 units at Pasighat, 15 units at Tawang, 13 units at Ziro, 10 units at Daporijo, 8 units at Tezu and 7 units at Aalo, according to a GWS release.
"More blood could have been collected had there been proper blood storage facilities. Moreover, there was less demand at Aalo, Daporijo, Tezu and Yingkiong," the release said.
Though 30 donors had turned up, not a single unit of blood could be collected in Yingkiong, due to 'technical reason/ problem' in the blood bank, the GWS said.
It said contact numbers of 144 volunteers have been collected and kept as reserved donors, who will be called as and when required for blood donation.
Fifty volunteers had turned up and registered for blood donation at Aalo, 52 in Tezu and 30 each in Daporijo and Yingkiong.
All the doctors, nurses, laboratory technicians, blood bank technicians, technical supervisors, and the attendant of TRIHMS and RKHM were felicitated in a function on Wednesday for their technical support during the blood donation camps.
The GWS thanked all the volunteers for donating blood during this critical time to save lives.
The GWS extended its appreciation to the All Nyishi Students' Union and All East Kameng Capital Complex Students' Association for their support, and for donating six and four units of blood, respectively.
It also acknowledged the contribution of Arunachal Voluntary Blood Donor's Organisation chairman Ramesh Jeke for guiding the GWS volunteers at the RKMH during all three days of camp.
The society has expressed gratitude to all those who have contributed in cash and kind for successful conduct of the blood donation programme.