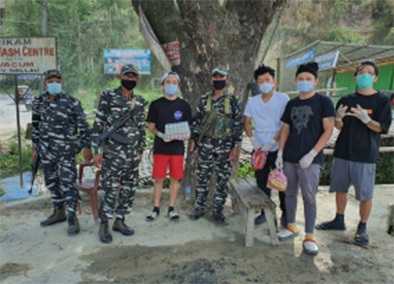 ITANAGAR, May 13: Four enterprising young boys have come together to serve the police by distributing food items to personnel on duty.
They have been distributing cold drinks, chips and other edible items to the police and other paramilitary personnel engaged in lockdown duty amid the heat and rains in the Capital Complex area for quite some time.
But then, how did the idea come to their young minds? Baji Ringu, a student of class-X, of the Ramanujan Academy, Naharlagun says, "It came to my head when we saw them standing out there in the highway, near the Naharlagun helipad, doing their job. We really felt bad seeing them working all the time without anybody caring for them. So I just broached the idea of providing them some refreshments to my friends – Nyali Karbak, Wrage Yangda and Hibu Dolo. Then and there," reveals Baji, "They jumped at the suggestion."
Nyali is doing class-XII, Arts from Ramanujan Academy, Nirjuli while Wrage is in class XII Commerce in Don Bosco School, Jullang. Hibu is doing XII Arts from Donyi Polo School, Naharlagun.
But then, how did they arrange the cash for buying the refreshments? Besides, they needed to buy gloves and extra masks for themselves as well. Though they pooled from their pocket money, it was not sufficient. Another bright idea struck their heads. They asked their parents to contribute, and the parents also readily contributed when they were told about the purpose behind it.
And so began their mini mission. Refreshments were served to the police and paramilitary forces in and around the capital complex. They even went up to Gumto check point. Needless to say, security forces were also pleasantly surprised at this new avatar of our youth. They even went on to snap their photos to upload them in their WhatsApp forums.
But sadly, they couldn't continue the mission for long. Explains Nyali, "We wanted to do more but then we don't have any money left now."
Agreed, their mission is temporarily aborted, but then these youths have shown the best way to spend the lockout.
We take for granted the services provided by our police and paramilitary forces; at the most we give lip service. But these four youths have gone a step further. They have not only shown their appreciation for their services, but they've also shown that they care as well.