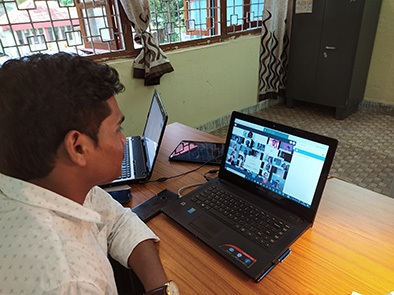 RONO HILLS, May 13: The five days Online Faculty Development Programme (OFDP) on 'Critical theories and their contemporary trajectories in humanities' conducted by the English department of the Rajiv Gandhi University (RGU) got underway here on Tuesday.
Addressing the participants at the inaugural session, RGU Vice-Chancellor Prof Saket Kushwaha informed that the Union ministry of human resource development (MHRD) and the University Grants Commission (UGC) has mandated online education for students, and to interactive and focused research sessions by faculty.
RGU Registrar-in-charge, Prof T Riba emphasized on the importance of using innovative ways to ensure that 'the flow of teaching-learning is maintained in these tough times.'
Prof Kona Prakash Reddy from EFL University, Hyderabad was the resource person for the first technical session, while the second session was attended by Prof Asima Ranjan Parhi from Utkal University, Bhubhaneswar as resource person.
RGU Joint Registrar (Academic & Conference) Dr David Pertin, who is also a member of the advisory committee of the online FDP, informed that this is the third OFDP in a row organized by the RGU during this pandemic situation.
He further informed that "approximately 800 participants registered from across the nation and also few from abroad are being immensely benefitted from it."
OFDP convenors Dr CK Panda and Dr Prachand Narayan Piraji, both assistant professors of the RGU's English department, gave a brief outline on the intent and scope of the event.