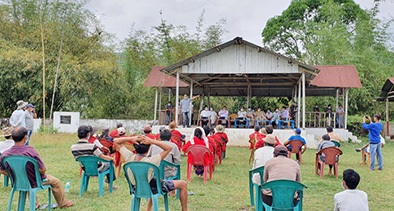 DOLLUNGMUKH, May 15: Raga MLA Tarin Dakpe, accompanied by Kamle DC Hengo Basar, on Thursday visited the quarantine centre and the PHCs here to take stock of the level of preparation to fight Covid-19.
Later, addressing a public meeting at the Boori-Boot ground in Kherbari, Dakpe commended the efforts being made by the Dollungmukh SDO, the healthcare workers, the police and the youths to prevent the spread of the virus in their area.
Stating that he could not visit the entire district due to the lockdown, the MLA appealed to the people to follow the lockdown guidelines framed by the Centre and the state governments. He also appealed to everyone to work together, irrespective of region, caste and religion, in this hour of crisis.
The DC informed that he is communicating with the authority concerned regarding ration supply in Dollungmukh.
Later, former ZPM Bei Tassap, on behalf of the public of Dollungmukh area, submitted a memorandum to the MLA, seeking adequate supply of PPE and essential ration items, deployment of security personnel, compensation for lost agricultural and horticultural products, etc.
Dollungmukh SDO Koj Tacho informed that the check gate is being manned by the police, health workers and local youths on a roster basis.
"The police and health workers guard the check gate from 9 am to 6 pm, and the rest of the hours (6 pm to 9 am] of the day by the youths engaged in Covid-19 duty," Tacho informed.
SP John Pada, DMO Dr Nani Rika and DRCHO Dr Kapu Sopin accompanied the MLA and the DC during the visit.