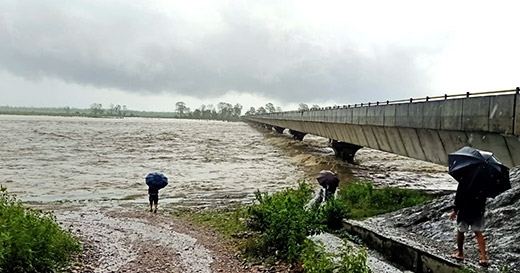 [ Karyir Riba ]
ROING, May 26: The water level of the Dibang River has been increasing alarmingly due to incessant rains for last few days.
According to sources from the water resources department here in Lower Dibang Valley district, the situation may worsen if the rainfall continues for the next three or four days.
As per information from the department, water from the Dibang is flowing at 234.20m flood level, with a discharge of 18322.86 cumec. The river water has already entered into the agricultural land in Patching area, and has inundated huge agricultural, as well as community forest land, both in Patching and Bomjir, sources said.
A senior public leader from Bomjir village, expressing his concern, said that entry of the Dibang river water into the Patching area will not only maroon the vast agricultural land of the villagers, but will also threaten the very existence of NH-13, Dibang bridge, Bomjir village and its adjoining areas.
MLA Gum Tayeng informed that she is well aware of the situation and has already initiated a river training project which was cleared by the state TAC last year. She said that the project is in need of fund. The chief minister and chief secretary had visited the affected site last year, Tayeng said.
Meanwhile, the met department forecast says that there will be heavy to very heavy rain in the state in the next five days.