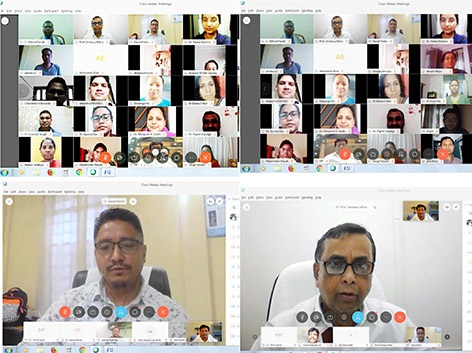 RONO HILLS, May 30: The five-day online short term course (STC) on research methodology in Humanities, which was organized by the Department of English, Rajiv Gandhi University (RGU), concluded here on Saturday evening.
In the e-valedictory ceremony, RGU Pro-Vice Chancellor Prof. Amitava Mitra spoke on the importance of learning research methods in Humanities and shared his words of appreciation and encouragement with the participants and the organizers.
RGU Joint Registrar (Academic& Conferences) Dr. David Pertin appreciated the efforts of the department for coming up with such programme in the greater interest of the academic community. He spoke on the unceasing human-will-to-learn at the time of pandemic. He also appreciated the effort of the organizers for maintaining the gender ratio while finalizing the final list of participants from 2605 odd registered applicants to attend the course.
Apart from the host university, teachers and research scholars from across the country and abroad, like Oman, Saudi Arabia, Sri Lanka and the USA participated in the STC and shared their views and gave feedbacks.
Prof. Mundoli Narayanan from Indian Institute of Advance Studies, Shimla, Dr. Guarav J Pathania, Georgetown University, Washington DC, USA, Dr. Lalit Khandare, Pacific University, Oregon, USA, Prof. Amrit Sen, Visva-Bharati Shantiniketan, Prof. Bhagabat Nayak, RGU, Dr. Milind Pandit, MMS College, Dr Babasaheb Ambedkar, Marathwada University, Aurangabad, Maharashtra, Dr. Jayati Chatterjee, The English & Foreign Languages University, Shillong Campus, Meghalaya, Dr. Rajkumar Eligedi, Prince Sattan Bin Abdulaziz University, Saudi Arabia, Dr. Bhima Charan Nayak, SCS College, Puri, Dr. Anindya Shyam Chaudhuri, Assam University, Dr. Basil N. Diengdoh, Dibrugarh University, Assam, Dr. Umesh Patra, Mahatma Gandhi Central University, Motihari, Bihar and Dr. DS Gupta from RGU were the resource persons of the course.
Head of the English department Dr. KC Mishra, and course coordinators Dr. PN Piraji and Dr CK Panda also spoke, according to a RGU release.