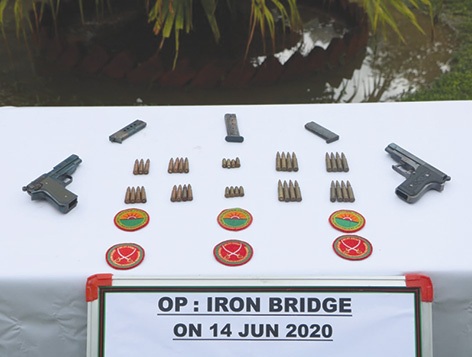 [ Pisi Zauing ]
KHONSA, Jun 14: Three hardcore operatives of the ULFA (I) were apprehended from Tirap district in a joint operation by the police and the 6 Assam Rifles on Sunday.
The trio has been identified as self-styled (SS) sergeant major Rajesh Lohan alias Raj Asom (33), of Tokopattar village; SS sergeant Dokhotiya alias Bojro (29), of Tekhai village; and SS corporal Raju Morang alias Gombey Asom (27), of Vishnupur village, all in Tinsukia district of Assam.
Two pistols, three magazines, eight pistol ammunitions, 15 AK ammunitions, 16 SLR ammunitions, and three pairs of ULFA badges were recovered from their possession.
Till reports last came in, interrogation was underway, and the trio will be handed over to the Khonsa police station.