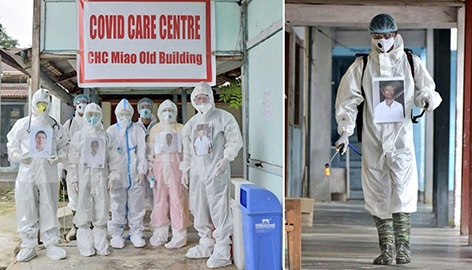 Staff Reporter
ITANAGAR, Jun 14: Dressed in personal protective equipment (PPE) from head to toe, health workers treating Covid-19 positive patients is a formidable sight to behold.
But in one hospital in Changlang district, the health workers, from doctors to cleaners, have their photos attached to their PPE, making all the difference to the people who are under their care.
In the Miao CHC, all those who are taking care of the patients have their photos attached to their PPE, giving a humane face to Covid care, thanks to Changlang Deputy Commissioner Dr Devansh Yadav, a graduate from the All India Institute of Medical Sciences.
"I saw a friend in New York doing the same two months ago, and I was very impressed with it," he said, responding to a question from this daily.
Dr Yadav has replicated the example as Changlang has registered the highest number of Covid-19 cases, with 55 cases.
"All one needs is an A4 sheet with your photo on it," he said.
Many in Covid care centres (CCC) have been there for 10 days now and have not seen a normal human face with all the PPE and masks, he said.
"The patients meet these doctors and nurses daily, but they don't get to see their faces as all are covered. So I decided to start (the tagging) in CHC Miao," he said.
Since it has been well-received in Miao, the patients admitted in the CHCs in Bordumsa and Diyun will soon know the faces and names of the doctors and nurses who are treating them, even though they are covered from head to toe, thanks to an A4 size sheet and an innovative DC.