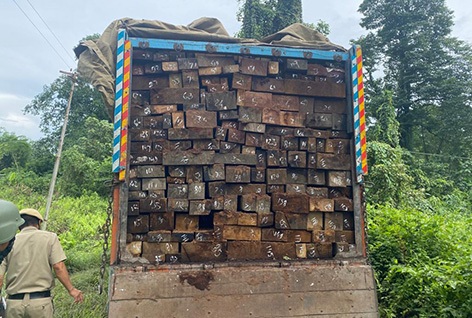 [ Karyir Riba ]
ROING, Jun 15: Two truckloads of illegal timber worth around Rs 50 lakhs were seized by the police late Sunday night from Etano area near Koronu village in Lower Dibang Valley district.
Acting on a tip-off, LDV SP Sanjay Kumar Sain dispatched a police team to Etano, where the team intercepted two 16-wheeler timber-laden trucks (AS-01-FC-9017 and AS-01-KC-6763), according to a police source.
While one of the truck drivers initially managed to flee, the driver and the handyman of the other truck were arrested on the spot.
The absconding driver drove his truck far into the jungle off the highway, and abandoned it there. Later, the driver and his handyman were also traced from the jungle and apprehended.
As per reports, when the police team was bringing the trucks to the police station, they were stopped by a group of people and manhandled. The group also reportedly threatened the police team of dire consequences if they did not release the seized trucks and the arrested persons.
However, on being reprimanded by the police team and learning that the SP was on his way to the spot with additional police force, they fled from there.
During interrogation, the arrested drivers and handymen revealed that both the trucks had come from Guwahati (Assam) to unload cement at Diyun/Chowkham last week, and had been engaged for carrying timber by some 'Bhuyan Da', who directed them to load the trucks in Chowkham, bring them to Meka Tinali in Roing, and await further instructions.
The trucks have been brought to the police station here. The seized timber is believed to be worth around Rs 50 lakhs.
As per the police, the Roing DFO has been intimated about the seizure, and the seized timber will be handed over to him after the police proceedings are over.
A case (u/s 379/341/186/353/506/34 IPC r/w Section 25 AFR Act) has been registered, and investigation is underway.
"A detailed investigation is being undertaken to uncover all the facts, as it has been learned from sources that there is a huge-scale illegal timber trade operating in the eastern region," the SP said.