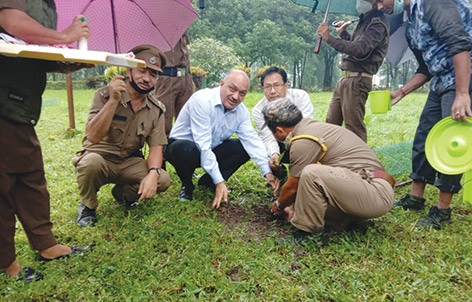 [ Karyir Riba ]
ROING, Jun 27: The Dibang forest division of Lower Dibang Valley (LDV) conducted a plantation programme under the 'Clean and Green Arunachal' campaign here on Saturday.
It is targeted to plant around 1 lakh saplings under the campaign.
DFO Kenjum Rina along with Chief Secretary Naresh Kumar planted bokul (Mimosops elengi) saplings at the Jawaharlal Nehru Udyan in Ezengo here.
A plantation programme was carried out in Dambuk circle also.
Currently, over 4,000 saplings have been planted across LDV district.
DIPRO adds: Joining the rest of the state in the 'Clean and Green Arunachal' campaign, the police in Lower Subansiri HQ Ziro conducted a plantation drive at various places on Saturday.
Varieties of saplings were planted at the residences of the SP and the DSP, the SP office, the police station, the fire stations in Hapoli and Old Ziro, the UTP cell, and the CRPF camp in Ziro.
SP Hemant Tiwari, District Sessions Judge Lobsang Tenzin, DSP Takir Jirdo and G/138 Bn Inspector Rajender Singh joined the plantation drive.