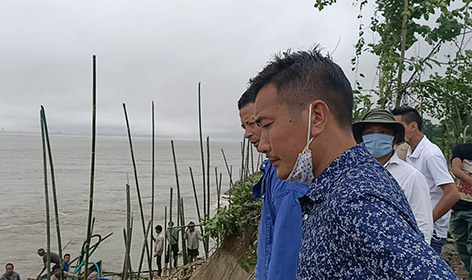 ITANAGAR, Jul 26: A team of the All Arunachal Pradesh Students' Union (AAPSU), led by it's general secretary Tobom Dai on Sunday visited flood-affected Sigar and Namsing in East Siang district and took stock of the ground situation.
Expressing concern over the flood damages in Lower Mebo area, Dai sought the state government's intervention for taking up flood control measures to save the lives and properties of the villagers who suffer due to floods every year.
"Since the Siang flood damages is a recurring problem and it is beyond the control of local people, district administration and even the local MLA, state government should grant a mega financial flood control package. Otherwise the people of several villages under lower Mebo area will have to live in an atmosphere of uncertainty," the union stated in a press release.
The team, accompanied by members of the All East Siang District Students' Union, the AdiSU, the ABSU, the Bosing Students' Union, the LBSU and the AMCSU, also visited Sigar village, where the floodwater of the Siang river is posing a threat to the school building near the village.
The AAPSU said the increasing volume of the river water may wash away the school building "at any moment."
The team also visited the block point on the Mebo-Dhola road, where a major portion of the road has been washed away by the Siang river. The erosion by the river also poses a severe threat to the downstream villages, the AAPSU said.
The union said hundreds of hectares of agricultural land are submerged every monsoon by the Siang river, which also forces the people to take shelter in safer places. "The situation remains grim and precarious every rainy season," it said.
The AAPSU team lauded the villagers of Sigar and Namsing, besides NGO SEEANG, led by retired group captain Mohanto Panging, for their voluntary flood protection works.