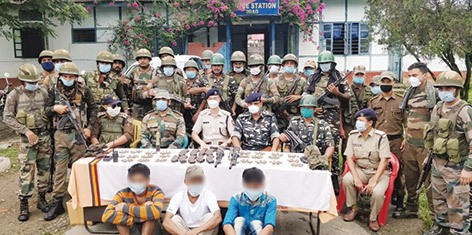 CHANGLANG, Sep 6: The six-day operation against extortionists in Mpen area of Miao circle in Changlang district, which was launched on 1 September by the Changlang unit police along with the 14th Rajput Regiment and 171 battalion of the Central Reserve Police Force, was called off on Sunday, after the arrest of another ultra involved in the extortion racket.
The joint security team on Saturday nabbed the other SS Pvt Ranjan Chakma (29), alias Manoranjan from Miao. On 3 September, one self-styled private Wangmon Khimhun (22) was arrested from the general area of Mpen.
An over ground worker, identified as Kamal Chakma (20), who aided the ultras by arranging food and shelter for them, was also apprehended from Mpen in the wee hours on Sunday.
"With the apprehension of SS Pvt Wangmon Khimhun, SS Pvt Ranjan Chakma and the OGW, the extortion racket in Mpen has been cracked," Changlang SP Mihin Gambo said.
During its six-day operation, the joint security team recovered huge cache of arms and ammunitions, including two Chinese-made assault rifles, nine magazines, 239 live ammunitions, one live hand grenade, one set of walkie-talkie, charger, magazines pouches, holster and other incriminating documents, said the SP.
The apprehended ultras were allegedly working for the NSCN-K.