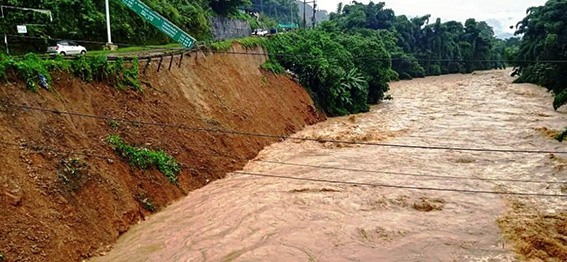 AALO, Sep 17: Incessant rains for more than a week has left trails of devastation in West Siang district.
The Aalo-Pangin road, which is considered the lifeline connecting four districts, is blocked at several points. The formation has been washed out at 'Ch 350 kms' of the Potin-Pangin NH 13, near the Aalo-Pangin-Boleng trijunction. Around 100 vehicles travelling in both directions were stranded on Wednesday, and the Siang administration has issued a caution to all not to use the road for two to three days.
The Sipu and the Yomgo rivers are in full spate and were flowing at the danger level on Thursday morning, causing a deep erosion on the Aalo-Kaying BRTF road near Sipu bridge, waterlogging at many places, and inundation of cultivation fields.
The situation is expected to become more damaging if the rain does not stop and the water level does not recede.
The administration is keeping a close vigil on all monsoon-related development in the district.
The meeting of the Sipu and the Yomgo in full spate at their confluence in Puak Gumin can pose a serious threat, as witnessed in the past. (DIPRO)