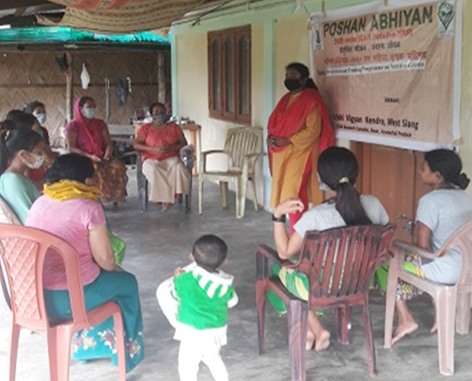 BASAR, Sep 21: The West Siang KVK observed Poshan Maah in collaboration with the integrated child development services (ICDS) on 17 September at Nyodu village here in Leparada district.
Seventy-four participants, including anganwadi workers, farmwomen and representatives of the ICDS, the health department and the ArSLM attended the programme.
Basar ICDS CDPO Moli Nyodu briefed about the aims and objectives of the Poshan Maah-2020, while KKV Head (in-charge) Dr MS Baruah threw light on the Poshan Abhiyan and the importance of Poshan Maah.
BCLH Karto Gara explained nutrition, anaemia, diarrhoea, immunization, and antenatal and postnatal care, while horticulture scientist Dr Deepa Lal spoke about kitchen garden, nutrition thali, and package and practices of vegetable crops.