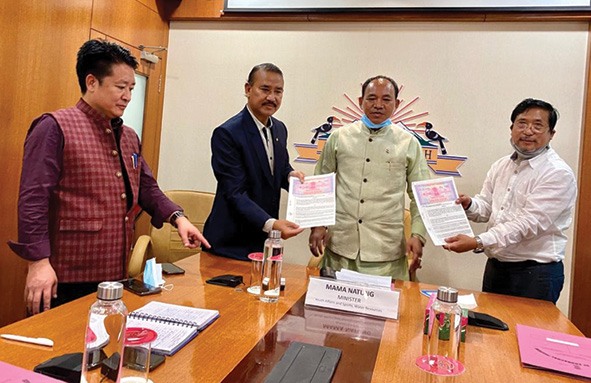 Staff Reporter
ITANAGAR, Oct 27: The sports department on Tuesday inked a memorandum of understanding (MoU) with the Sports Authority of India (SAI) to establish a national centre of excellence (NCoE) at the Sangay Lhaden Sports Academy (SLSA) in Chimpu for boxing, Wushu and weightlifting.
SAI Regional Director Dr Subash Basumatary and Arunachal's Sports Director Tadar Apa signed the MoU. The signing ceremony was virtually attended by union MoS for Youth Affairs & Sports Kiren Rijiju, state Youth Affairs & Sports Minister Mama Natung, SAI Director General Sandip Pradhan, Chayang Tajo MLA Hayang Mangfi, Youth Affairs & Sports Secretary NT Glow, and other officials.
As per the agreement, the SAI will develop state-of-the-art sports facilities, including playfields with allied facilities, hostel buildings, administrative blocks, training centres with required facilities, a multipurpose hall, accommodation facilities, and other related allied sports facilities.
Witnessing the MoU-signing ceremony, Rijiju congratulated the people of Arunachal, especially the sports department.
"With this MoU, the NCoE will be given full shape. I congratulate the team, especially Youth Affairs and Sports Minister Mama Natung and his department," Rijiju said.
He asserted that the NCoE would provide world-class infrastructure and training to sportspersons, and expressed hope that Arunachal would soon produce excellent sportspersons who would make the country proud on international stages.
Rijiju also said that more disciplines, besides boxing, Wushu and weightlifting, could be added in the NCoE after the infrastructure is fully developed. He asked the sports department to resolve the matter of land acquisition for shifting the NCoE to its permanent site in Rakap, Jote at the earliest.
Natung expressed gratitude to Rijiju for making the MoU possible.
"I on behalf of the government of Arunachal thank the union MoS for youth affairs and sports in particular and the Modi government in general for extending this infrastructural support. We are grateful to the union youth affairs and sports ministry and the SAI for their noble decision to set up the NCoE in Itanagar," he said.
"With this, we are very much optimistic about winning medals in the 2028 Olympics and beyond," Natung said, adding that the admission procedure for the abovementioned sports disciplines has already been completed.
The minister informed that the required sports equipment, kits, furniture, etc, are in place. He informed that the existing infrastructure of the SLSA would be used for day-to-day training activities, "including accommodation, in order to set up the permanent structure within the campus of SLSA."
Highlighting the importance of the MoU, SAI Director General Dr Subash Pradhan said that the signing of the MoU "is to bring world-class infrastructures to NCoE."