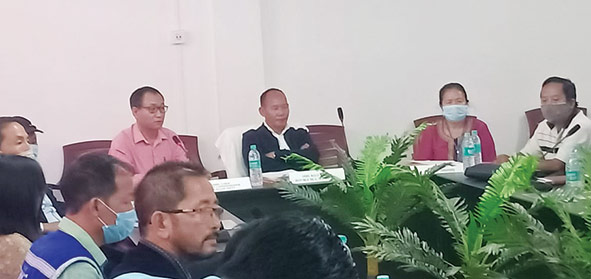 PALIN, Oct 29: Palin-Chambang MLA Balo Raja on Thursday appealed to all the officers of the education department to remain at their places of posting for better development of the education sector in his assembly constituency.
Raja said this while attending a meeting with the HoDs of the district. He said the need of the hour is to create human resources, so that the next generation learns to earn and devote themselves to develop their respective villages and hometowns.
"Time has come and everyone has to shoulder their responsibility and duty for the development of their respective area," Raja said.
He directed all the departments concerned to work dedicatedly to uplift the face of Kra Daadi district. He also suggested to
 the HoDs to work in the interest of the public by educating them about every centrally and state sponsored schemes.
He also directed the HoDs to be stationed at Palin for the welfare of the public.
The MLA advised the officers to "encourage the Aatmanirbhar policies," and emphasized on improving the education system. He suggested finding ways and means to provide quality education to the schoolchildren amid the Covid-19 pandemic.
Kra Daadi DC Solung Miji in his address said whatever schemes are allotted to the district is for the development of the district and the welfare of the people. "All schemes have to be implemented on time and the officers need to ensure that quality is being maintained by the respective department," the DC said.
Several schemes which have already been implemented and schemes which have been sanctioned but are yet to be implemented were also discussed during the meeting.