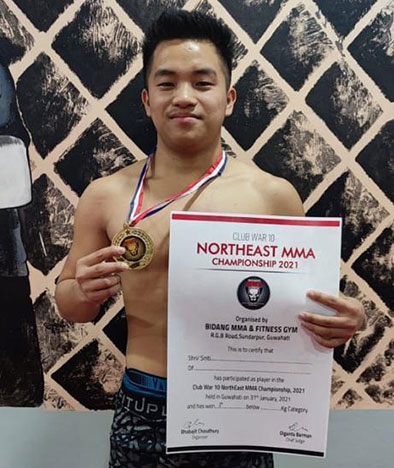 Staff Reporter
GUWAHATI, 31 Jan: In an inter-club war of Northeast Mixed Martial Arts (MMA) Championship 2021, Arunachal's Nisham Waii Sonam knocked out Jitul Ali of Guwahati to win Bantamweight (61KG) category of Northeast MMA Championship 2021 here Sunday evening.
The Inter-Club War-10 Northeast MMA Championship 2021
  is being jointly organized by Bidang MMA and Fitness Gym Sundarpur, Guwahati.
Nisham Waii Sonam hailing from Waii village under Khenewa circle of East Kameng district is representing Abrasumente Academy of Itanagar, Arunachal Pradesh.
Nisham was entirely dominating Jitul Ali from the very first round with ground and pound approach. However, Ali could manage to survive the volley of Nisham's strikes and take downs in the first round. Ali battled hard to fight back by changing levels in the second round, but his game plan did not work before Nisham, as 17 years old MMA fighter from Itanagar. Nisham brutally grounded Ali and pounded on him hard from mount position in second round.
The referee had to stop the contest in second round declaring Nisham Waii Sonam as winner by knock out. The fight was live streamed on social media. Nisham is the second amateur MMA fighters from Abrasumente Academy Itanagar who fought and won in Inter-Club fight of Northeast MMA Championship.