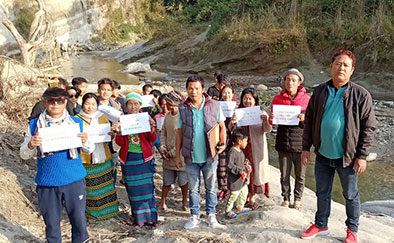 ITANAGAR, 31 Jan: The Siring Village Development Committee (SVDC) has expressed their resentment against the state government over its failure to fulfill their prolong demand i.e construction of bridge over Chimpu river.
The SVDC chairman Biri Larko informed that since 1988 the road which connects Siring village to rest of the capital has not been constructed. "There is a river in the middle of the road which creates lots of problems during the rainy season. We have approached CM Pema Khandu for the construction of bridge and even rupees two crore was also earmarked for the construction of bridge but still there is no sign of any kind work," he alleged.
Larko also informed that a new road was also assured by CM and the demarcation was also done as the present road was blocked with the start of the construction of Badminton academy in the area.
The SVDC secretary Tai Miri stated that a DPR with the estimated cost of 4.50 cr was made but even after Rs 2.00 cr was earmarked for the construction in 2019, till now there is no sign of any work. "The people of Siring village have been facing lots of problems without a bridge during the monsoons since 1988. This bridge will be a lifeline for us if constructed," he stated.
Meanwhile, Siring Village Development Committee has appealed to the state government for an immediate construction bridge over Siring village within the financial year 2021-22 failing which they have threatened to launch a democratic movement.