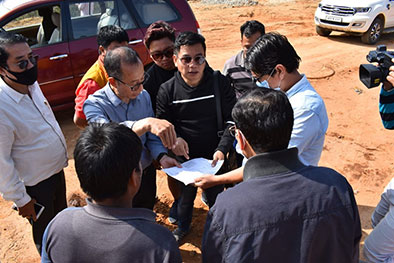 BANDERDEWA, 31 Jan: A high level team of officials from industries, planning and investment and land department inspected the ongoing mega food park project here on Sunday.
The officials include; secretary industries Hage Tari, director industries K. Koyu, deputy director industries G.Angu, planning and investment joint director Tabe Haider and Capital Complex DLRSO Yowa Nanee besides, Banderdewa ZPM Biri Tamin.
Speaking on the occasion, secretary industries Hage Tari said that mega food park is a PM flagship programme and is supposed to be commissioned by the year 2022. "Once completed farmers of the state will immensely benefit from it. Mega food park will be a gold mine for the farmers," he said. The secretary also said that the state government is committed to fulfill its obligation to fast-track the project. Further, the secretary expressed satisfaction with the progress of the work.
The promoter of mega food park Likha Maj was also present.
Maj explained in details about the ongoing work and sought the cooperation of all the stakeholders to speed up the work.