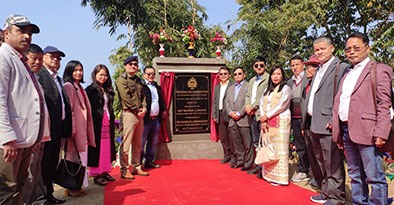 LONGO, 2 Feb:  PHE & WS minister Wangki Lowang on Tuesday, appealed for judicious use of water keeping in mind its value and importance.
Inaugurating a water treatment plant here in Tirap district, Lowang said his department will provide drinking water in every household under Jal Jeevan mission.
He urged the people of Longo and adjoining villages to take proper care of the water treatment plant.
Appealing to the villagers to refrain from deforestation around water sources, Lowang, who also is the DoTCL minister, discouraged traditional shifting cultivation.
He suggested the villagers to grow cash crops and adopt scientific way of farming with the help of the departments concerned.
Responding to a public memorandum, the minister assured replacing of old pipelines from the water source soon. 'The demand for construction of a new building for Govt. Primary School and widening of the village link road would be taken up with the chief minister in due course of time,' he said.
Borduria-Bogapani MLA Wanglin Lowangdong commended PHE&WS department for timely completion of the project. He said many development activities could not be completed in time due to the pandemic.
Stating that the pandemic is not over yet, he advised the people to continue follow the health guidelines, such as maintaining recommended physical distance, wearing of masks etc.
Lowangdong informed that the construction of NH-315A from Hukanjuri to Khonsa is being carried out in full-swing while, the works of TAH from Khonsa to Longding started from Tissa point.
Tirap DC Taro Mize said the office of the circle officer here will be inaugurated soon.
'The water treatment project was sanctioned in 2018 under the initiative of Borduria-Bogapani MLA Lowangdong and has been constructed under RIDF fund with an estimated cost of Rs. 450 lakh,' informed PHE&WS Khonsa division EE Bamang Tasung. The project will supply water to Longo circle headquarters and adjoining villages.
Kapu Block ZPM Wiram Matey requested minister Lowang and MLA Lowangdong for a similar water supply project for the people of Khowathong and Howalam villages.
Tirap SP Kardak Riba, Longo CO Ripi Doni, HoDs, GBs, Chiefs, PRI and students leaders attended the programme. (DIPRO)