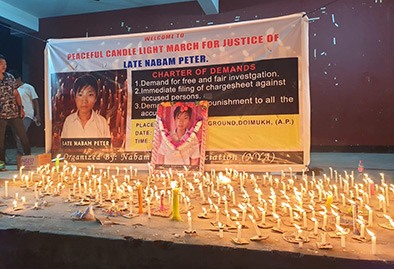 Staff Reporter
DOIMUKH, 15 Mar: Hundreds of people took out a candlelight march in Doimukh town on Monday, seeking justice for 13-year-old Nabam Peter, who was found dead in the family's rented apartment here on 6 March.
The deceased's father, Nabam Duli informed reporters that his son, a Class 8 student, was dragged from his wife's house here by five adults in a threatening manner. The boy was also made to change his school uniform.
"My son was dragged and beaten by the five men. By the time we found out what had happened and tried locating him, my son was found dead in my rented apartment," Duli said, and sought exemplary punishment for all those involved in the crime.
So far, five people have been arrested in connection with the case.
Nabam Youth Association president Nabam Tuna said, "We condemn such a criminal activity and want peace and communal harmony. The police should not hesitate to investigate the case or come under pressure in any circumstances."
 The organizations that participated also sought immediate and free and fair investigation, along with postmortem report and preparation of a chargesheet against the culprits.
The United Leil Tara Youth Association, the Camdir Youth Association, the Nangbia Youths, Save Arunachal Save Indigenous, the Nabam Welfare Society, the TEBW and several others participated in the candlelight march and paid condolences to the departed soul at the general ground here.