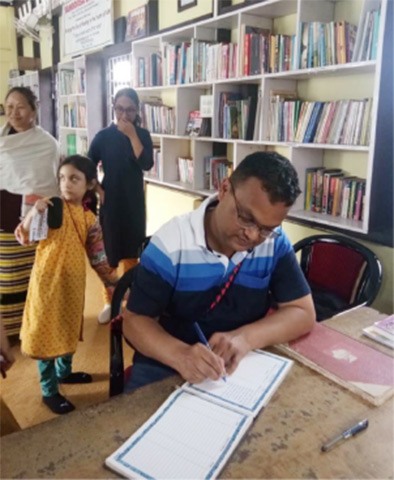 TEZU, 15 Mar: Finance Commissioner Prashant Lokhande on Sunday visited Bamboosa Library here in Lohit district, which he had inaugurated more than a decade ago, after a gap of 14 years.
Lokhande, a founder patron of the Lohit Youth Library Movement, had inaugurated the library in 2007 in the presence of the then MLA Karikho Kri.
Interacting with the senior library volunteers, library administrator Bapenlu Kri and others in the library, Lokhande recalled his last visit to the library in May 2007.
"Thank you, Uncle Moosa and dedicated volunteers," he said, adding that "we are committed to bring in library movement in Arunachal."
Lokhande informed that the state government will observe 2021 as the 'Year of education', and that libraries would be an integral part of it.
Senior activist Solina Kambrai said: "Prashant was the one who helped us during the pandemic when we were stuck in Tamil Nadu for almost two months. We are grateful to meet such a dynamic personality, and we thank him for his affectionate concern for us."
She also informed that Lokhande's daughter, Mishmi, a Class 10 student in Delhi, gladly offered to be a volunteer of Bamboosa Library during her vacation.
Another senior activist, Bahailu Rangmang said "we are blessed to meet such a friendly patron."