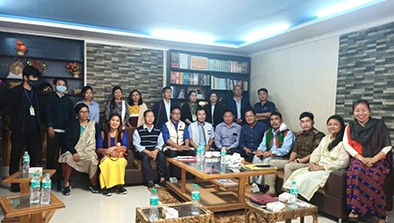 [ Karyir Riba ]
ROING, 17 Mar: The Arunachal Pradesh State Commission for Protection of Child Rights (APSCPCR) inspected and interacted with the organizations working for child rights during their two day's visit at Lower Dibang Valley district from 15-16 March.
Team APSCPCR also visited the Child Care Center (CCI), Childline Roing and various government-run schools of the district.
During an interactive meeting conducted at the DC office's conference hall here, the APSCPCR advised all the organisations working in Roing to conduct awareness programmes on child-related issues and child rights in collaboration with each other.
The commission assured every support on its part and urged the organizations to work together and support each other in the process of inquiry and restoration of children.
APSCPCR Member Jumtum Minga informed the participants about the powers and functions of the commission.
Inquiring about the cases of children registered during the pandemic under the Child Welfare Committee (CWC), Minga informed that if any minor is brought to the police station, the CWC should be informed immediately.
He suggested that the DC should conduct monthly review meetings with the District Child Protection Unit and Juvenile Justice Board for proper coordination and to achieve the organizational objectives.
APSCPCR Member Ngurang Achung spoke about the importance of sex education among the adolescent children and how it can prevent and reduce the risk of adolescent pregnancy, as well as STDs.
He further said that sanitary napkins should be distributed free-of-cost to school-going children. He advised the CWC and other organizations to visit schools at least once a month. The fee structure in government schools should also be monitored, he said.
The meeting was presided by DC KN Damo, and was attended by SP Roing JK Lego, DSP Ringu Ngupok, SDO Eving Yirang, DD ICDS Amo Perying, Chairperson CWC Israel Megu, Chairperson AW&CWS Anisha Apum, Chairman NMS Desai Linggi, members of CWC, DLSA, JJB, CCI, SAA, and Childline Roing.