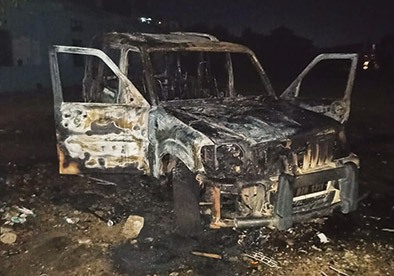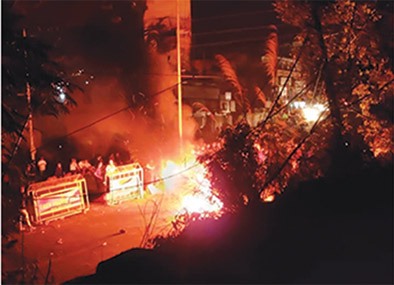 Staff Reporter
ITANAGAR, 6 Apr: The capital police have apprehended 10 youths in connection with Monday evening's students' union poll-related violence, which broke out at the office of the All Nyishi Students' Union (ANSU) near the NH-415 here.
Groups of youths vandalized the boundary wall of the ANSU office, broke window panes and furniture then set ablaze parked private vehicles inside the union's office.
The youths further went on to block the national highway by burning the tyres on the road, damaged several of the police department's vehicles, besides the street lights and the newly installed electric display board on NH-415 near the ANSU office.
According to the police, the district magistrates and higher senior police officials who were deployed on duty there tried hard to deescalate the situation but the unruly mob joined by other civilians, armed with weapons like lathi, dao, iron rod etc. ignored the officials' orders and began pelting stones on duty personnel causing minor injuries on their persons.
The police department's vehicles, including two SUVs (Scorpio) bearing registration numbers AR-01N0147, AR 01N-0195 of Itanagar PS, one Tata Sumo AR-01G-5210 of OC Naharlagun PS and one private vehicle of police constable D Nomuk deployed on the spot suffered damage during the violence.
 ICR superintendent of police Jimmy Chiram informed that two cases u/s 427/353/332/324/IPC r/w 3PDPP Act and u/s 147/148/149/452/342/436/336/427/323IPC have been registered at the Itanagar PS in this regard. One of the cases registered was based on the complaint filed by the ANSU's election committee.
The police apprehended the 10 youths from the spot among the violent mob.
Meanwhile, the SP has informed that a meeting of the ANSU executive members is on at the ANSU office and presently the situation is back to normal.