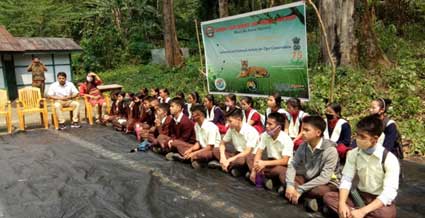 WAKRO, 8 Apr: The Kamlang Tiger Reserve and Wildlife Division organised an outreach campaign on wildlife conservation awareness and co-existence, here in Lohit district recently.
DFO Cheshta Singh informed that the main idea of the campaign was to create awareness among the students of Wakro circle regarding wildlife conservation.
"As residents living close to such a beautiful and pristine tiger reserve and wildlife sanctuary, it should be one's duty to protect and conserve it for future generations," Singh said.
Kick-starting the programme with a nature trail, the DFO asked the students to "observe nature and intricate them in your memory during the walk."
A listing of observations was done at the end of the trail, followed by a quiz competition.
Community members and school managements thanked the DFO, RFO Kelsang Dechen, Dy RFO Anand Singh Rawat and the team of Kamlang Tiger Reserve and Wild life Sanctuary Division for conducting the programme in various locations and reaching out to scores of rural students.